For the last seven years I have been commuting between Konstanz and Vienna for my job – and each city is the capital of one of the two most popular cycle paths on earth.
And since both my companies in Konstanz and in Vienna are doing bicycle tourism I simply had to cycle that distance once.
Last week I finally took my beautiful custom made Norwid touring bike and cycled from Konstanz to Vienna.
So I biked along Lake Constance from Konstanz to Friedrichshafen (booooooring), from there in a straight line to Munic (hillllllllly), from where I simply followed the Isar river  (bummmmmmmpy gravel) to its estuary into the Danube. Finally I went (speeeeeeeding) down the Danube to Passau and further to Vienna.
That was 795 kilometers, it took me  5 days and most nights I just set up my tent somewhere.
For taking good photos I simply didn't have any time, but I did take some quick shots of some situations that were related to cycle tourism.
Because I have been doing bicycle tourism for the past 15 years, founding and setting up several companies that became market leaders. So people call me an expert (and I do, too), so I could not avoid having this critical perspective.
Now, here we go: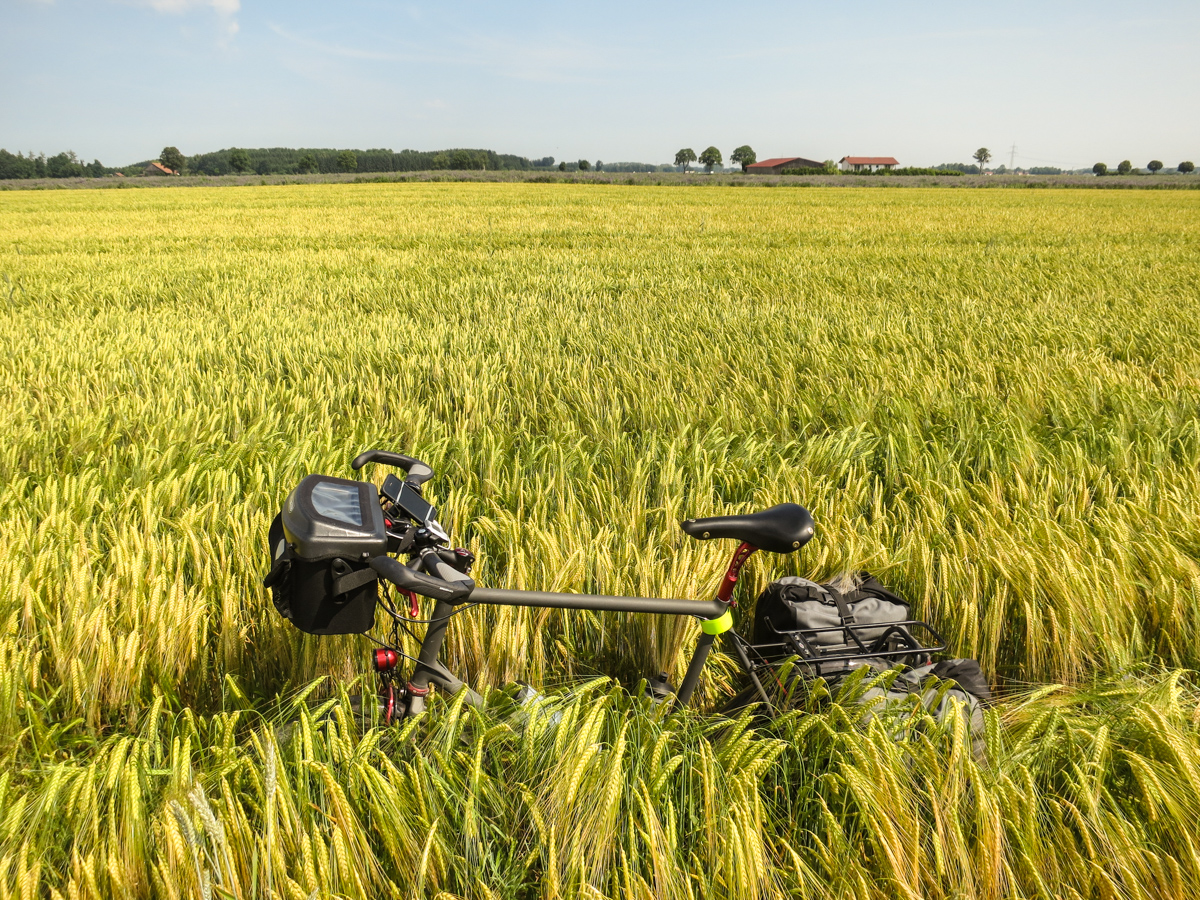 In the beginning I was strictly following the GPX tracks while testing the apps of my competitors (to Toursprung and Bikemap).
But at right at this position I decided switch back to traditional navigation (which is following roads, not tracks).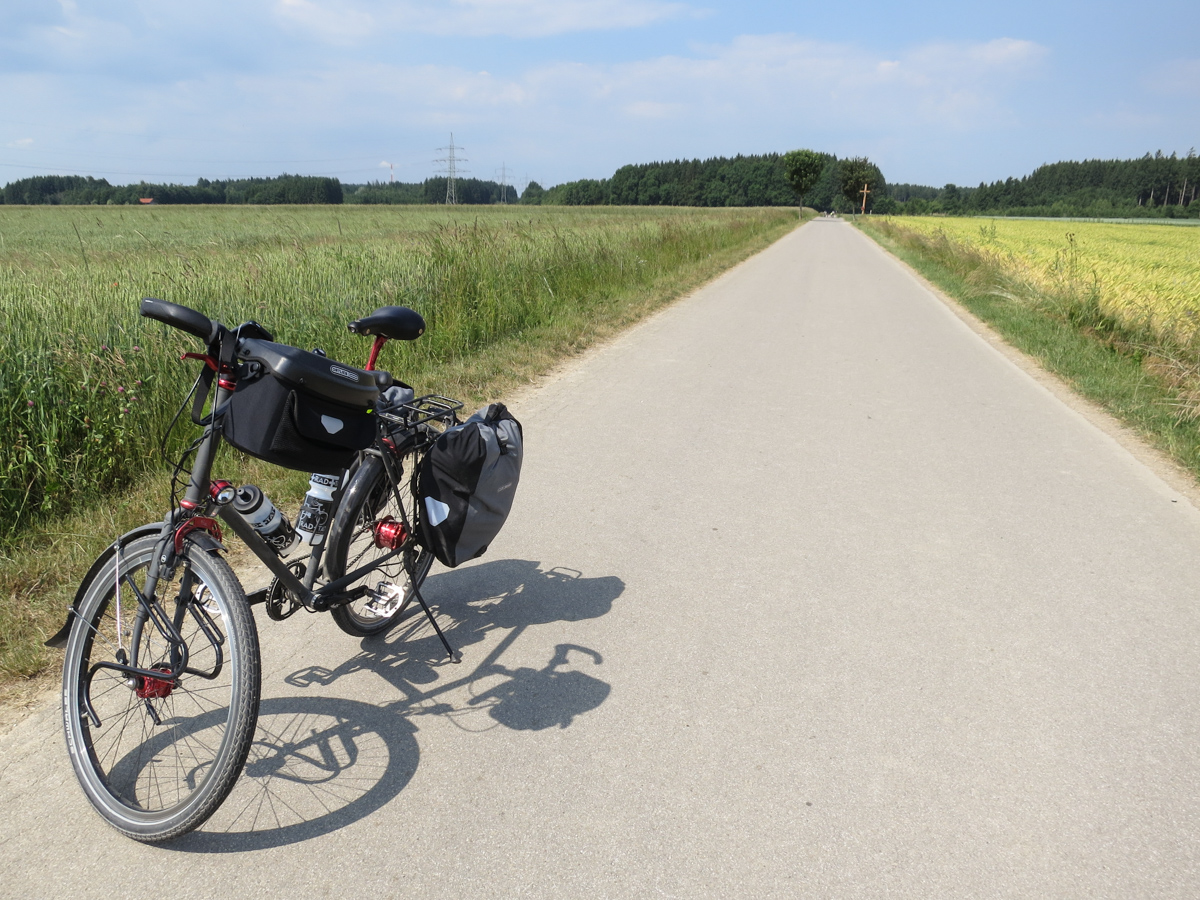 Cycling the small bavarian roads can be quite some fun.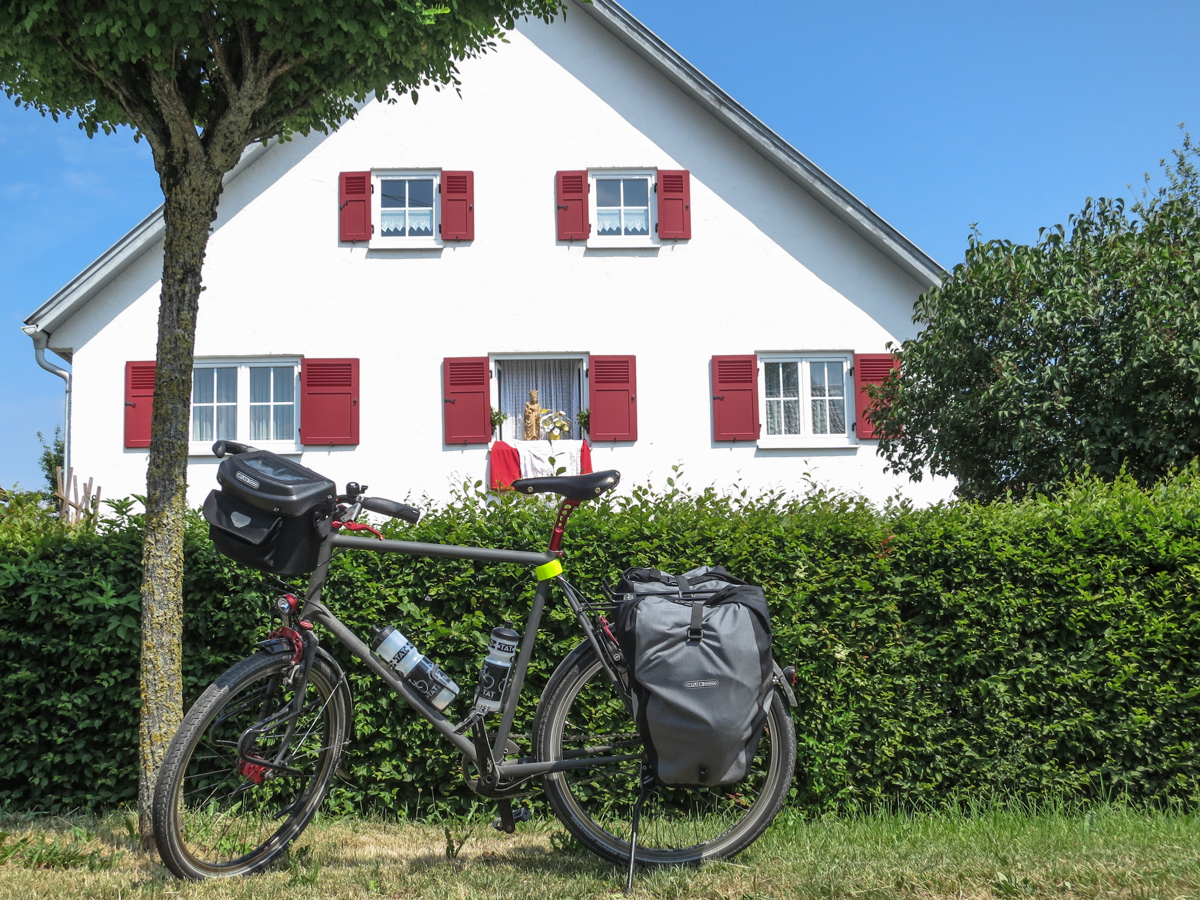 This was Corpus Christi day in catholic Bavaria. In each village I saw brass bands performing, and everybody seemed to put holy stuff in their windows to wind the obvious competition of being the most sanctimonious Bavarian.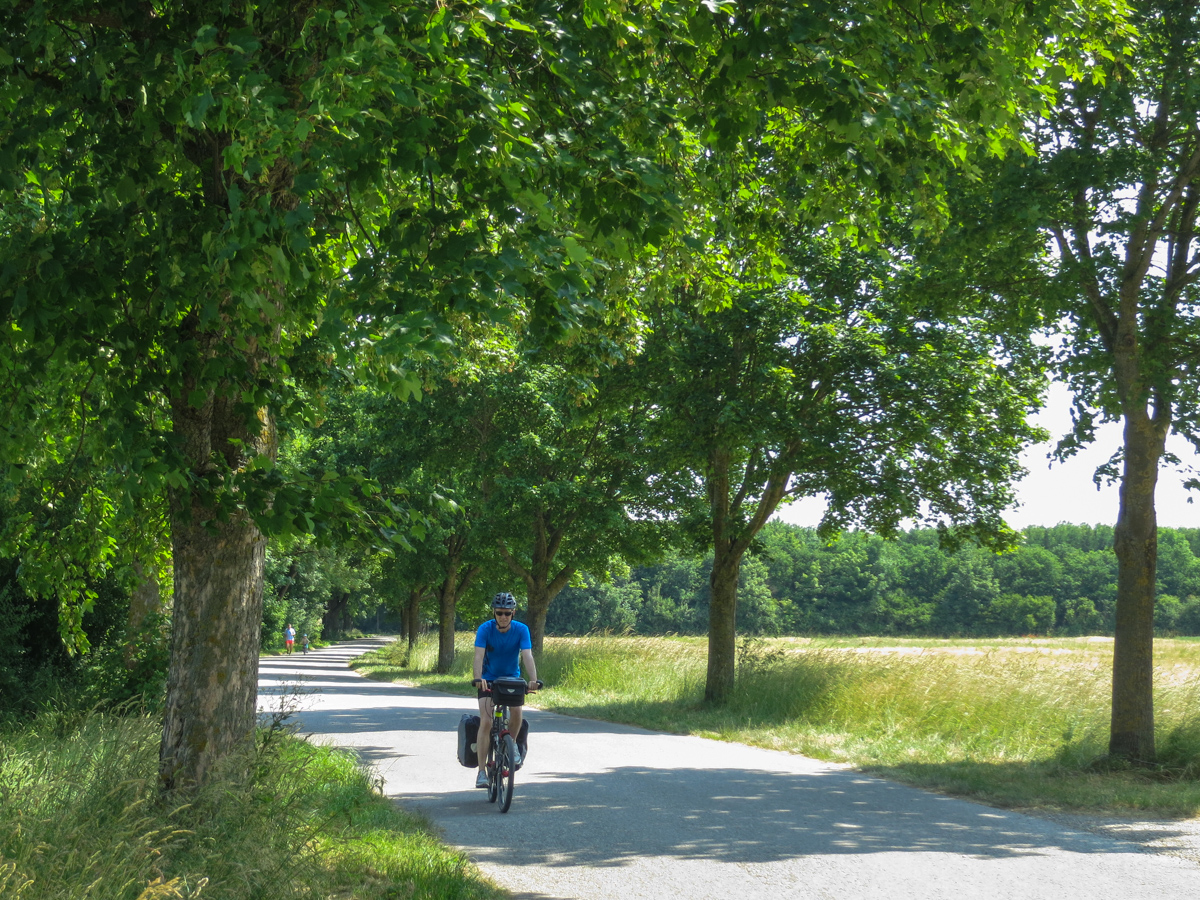 But anyway, those small roads in Bavaria are perfect for cycling.
Unfortunately the Bavarians are not as good in making espresso as they are in praying. This one in Landberg was quite okay.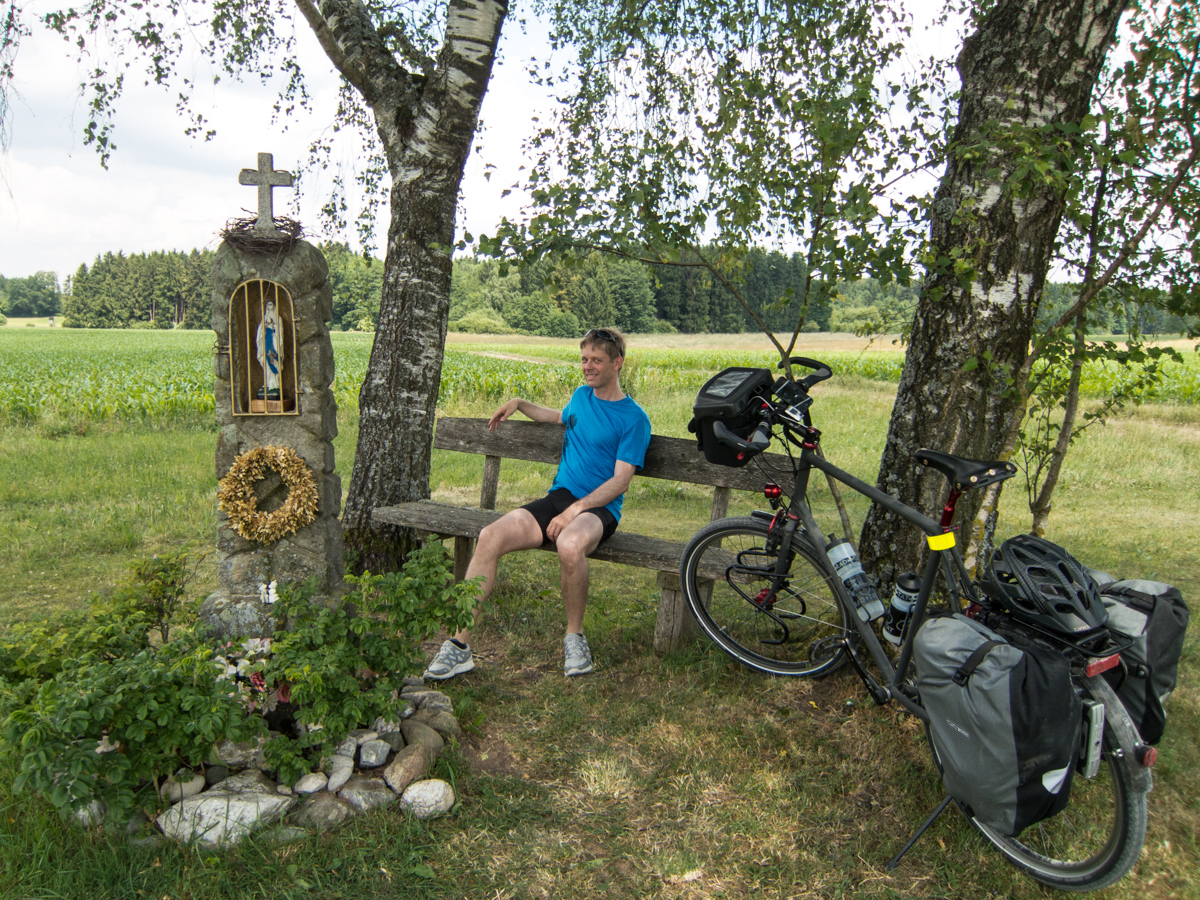 But therefore you can find those holy resting places at almost every other corner.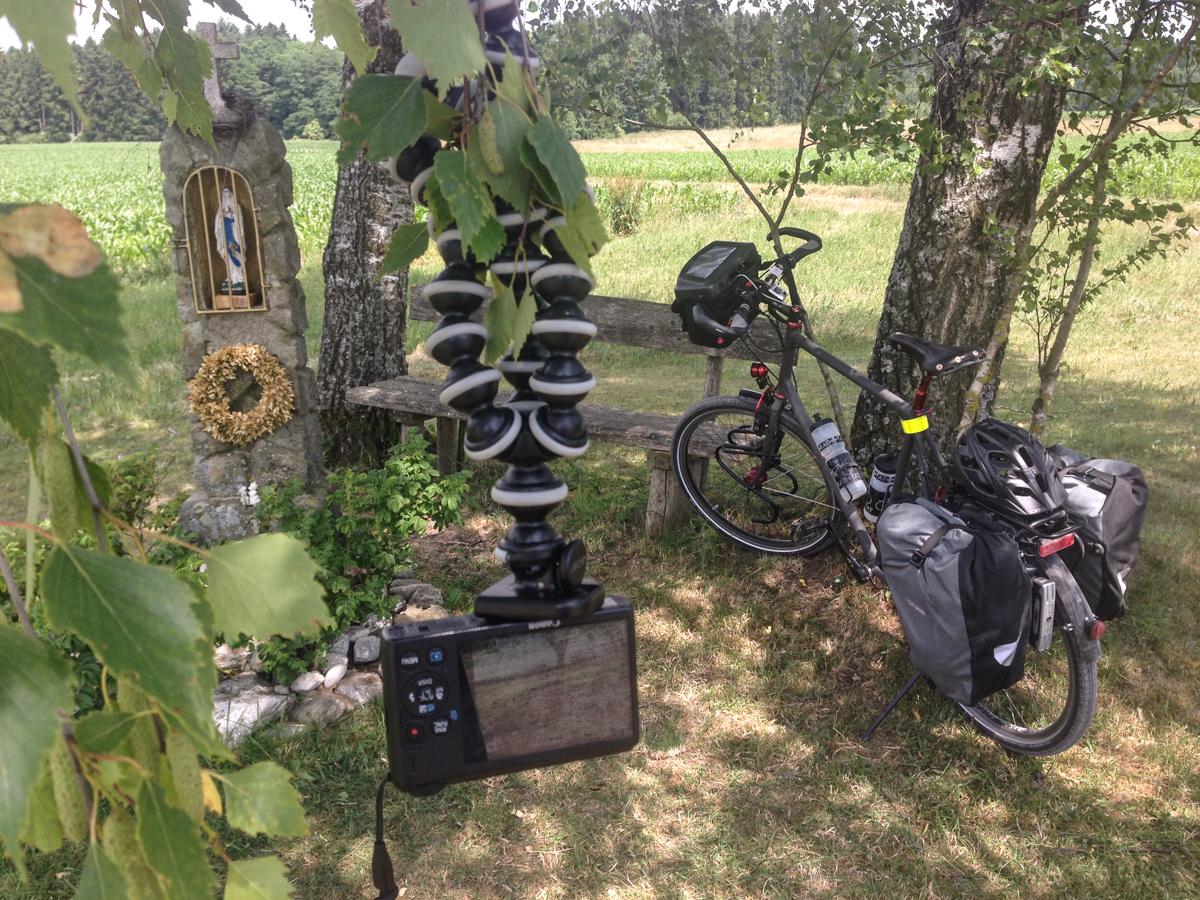 Doing a selfie with my little tripod was anything but easy. By misusing the birch tree as my helping hand finally helped.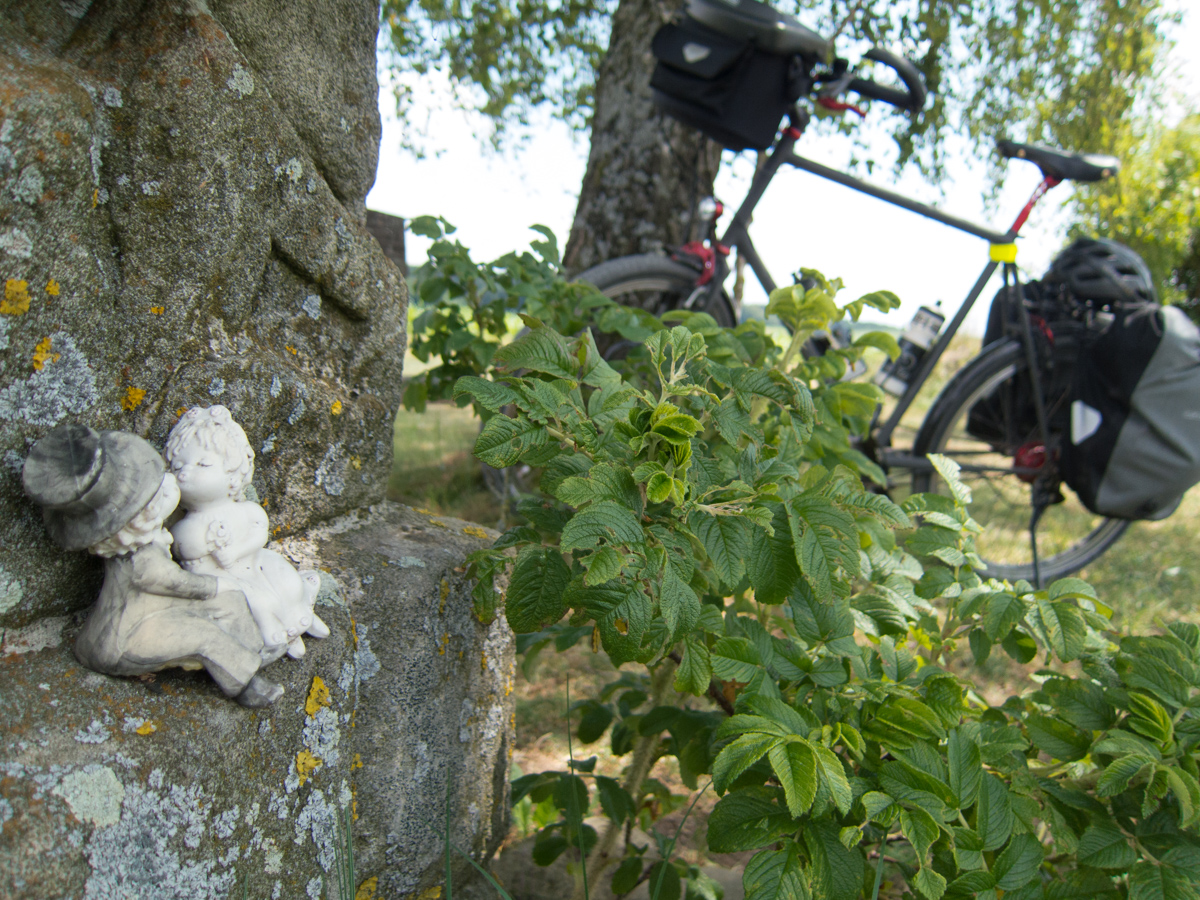 And the closer you look, the more of those cute details appear.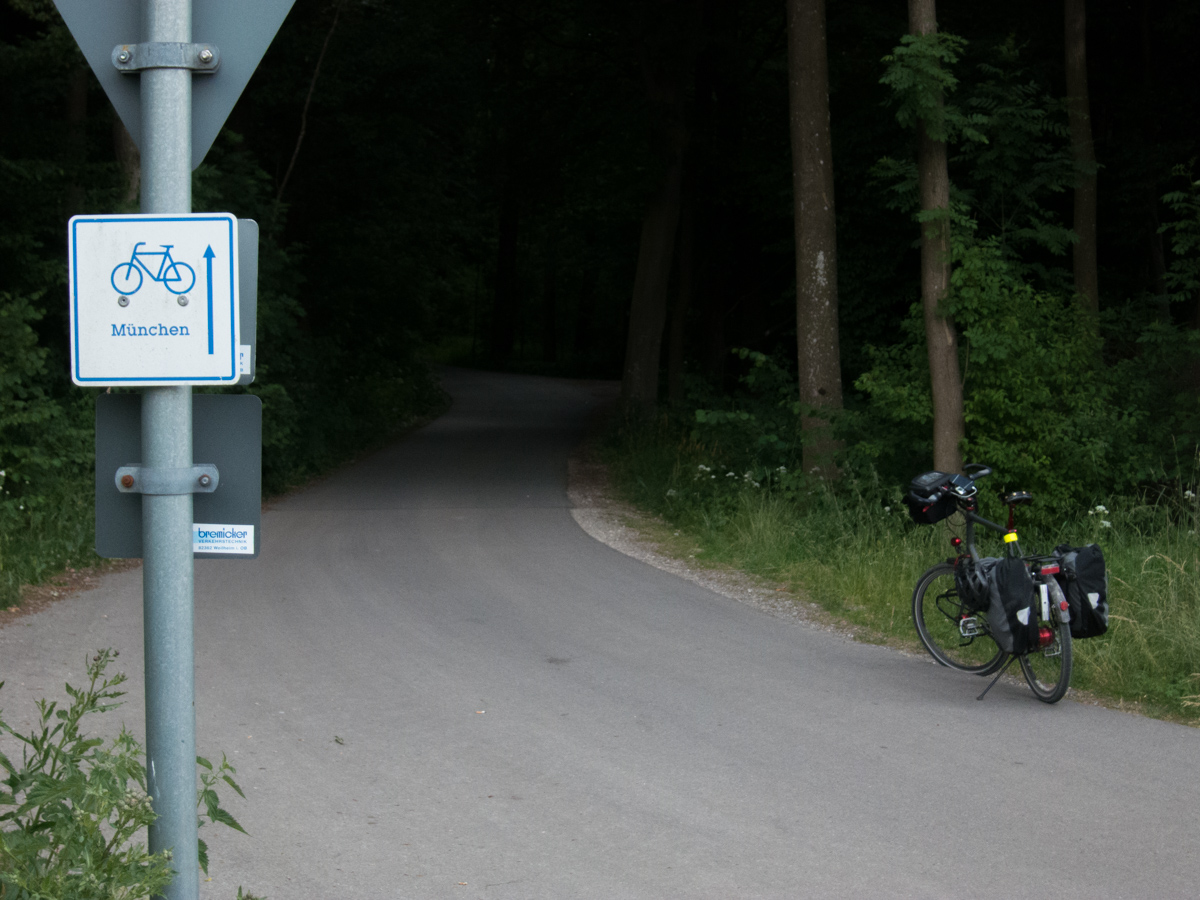 To get to Munich I had to cycle through this darkness..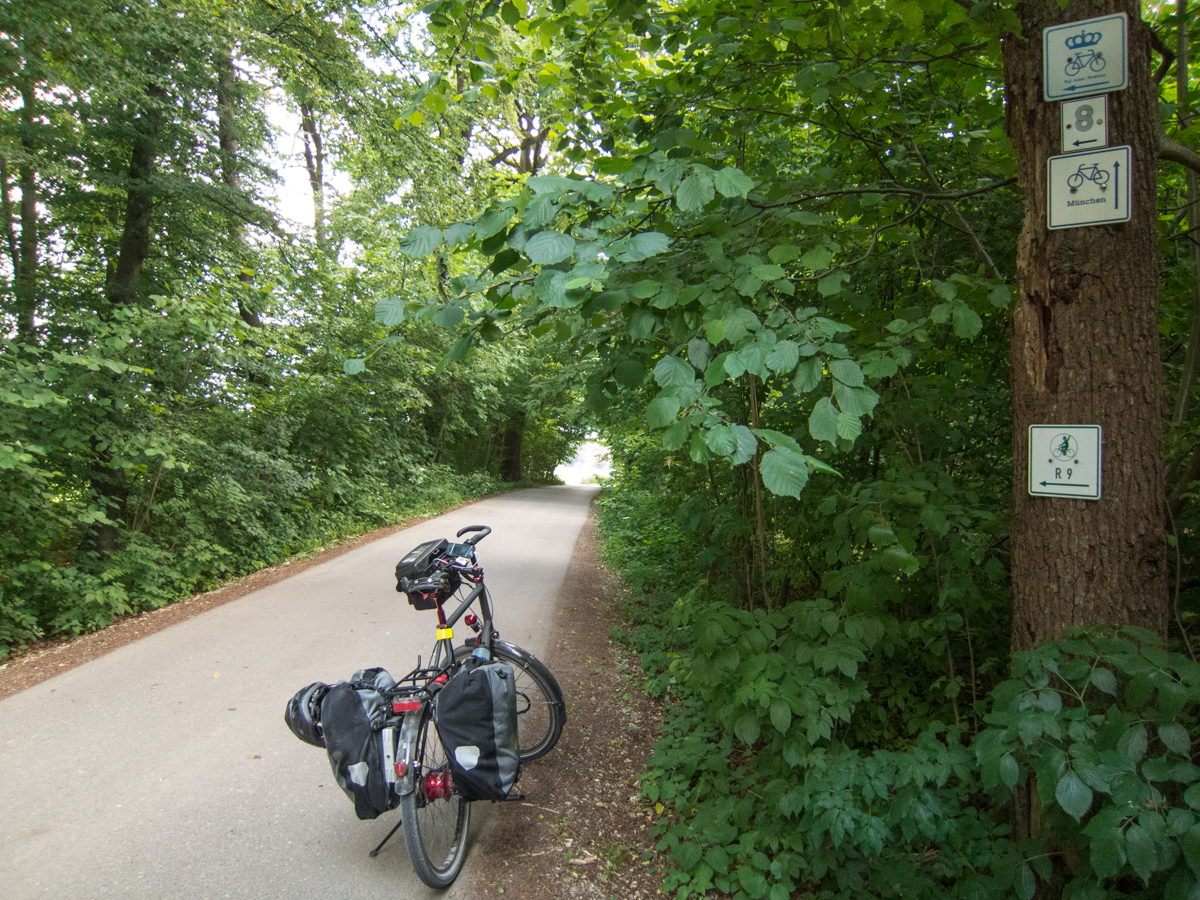 Whatever "R9" means – I kept following this sign. But during the whole trip there was not a single explanation of its meaning. Not so well done, Bavaria!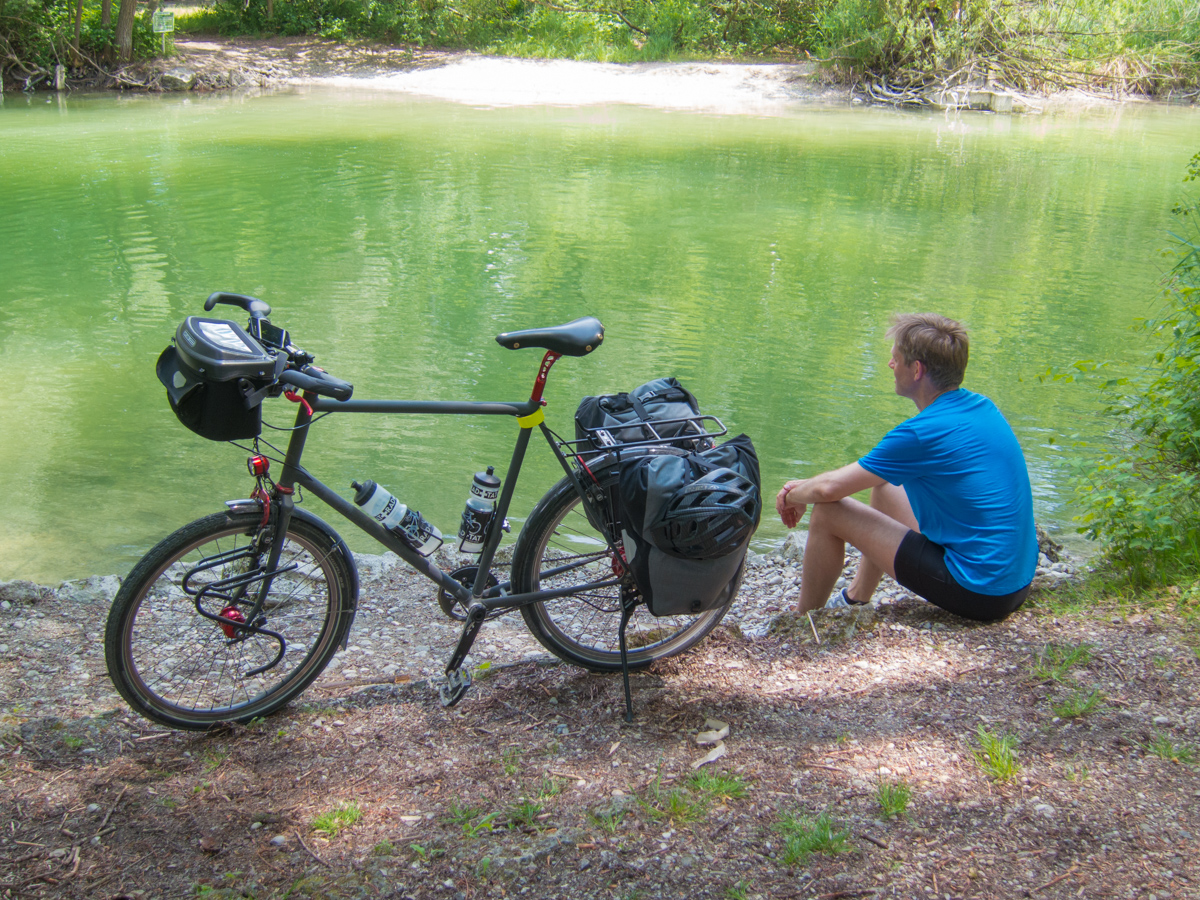 Another resting place at lake Ammersee.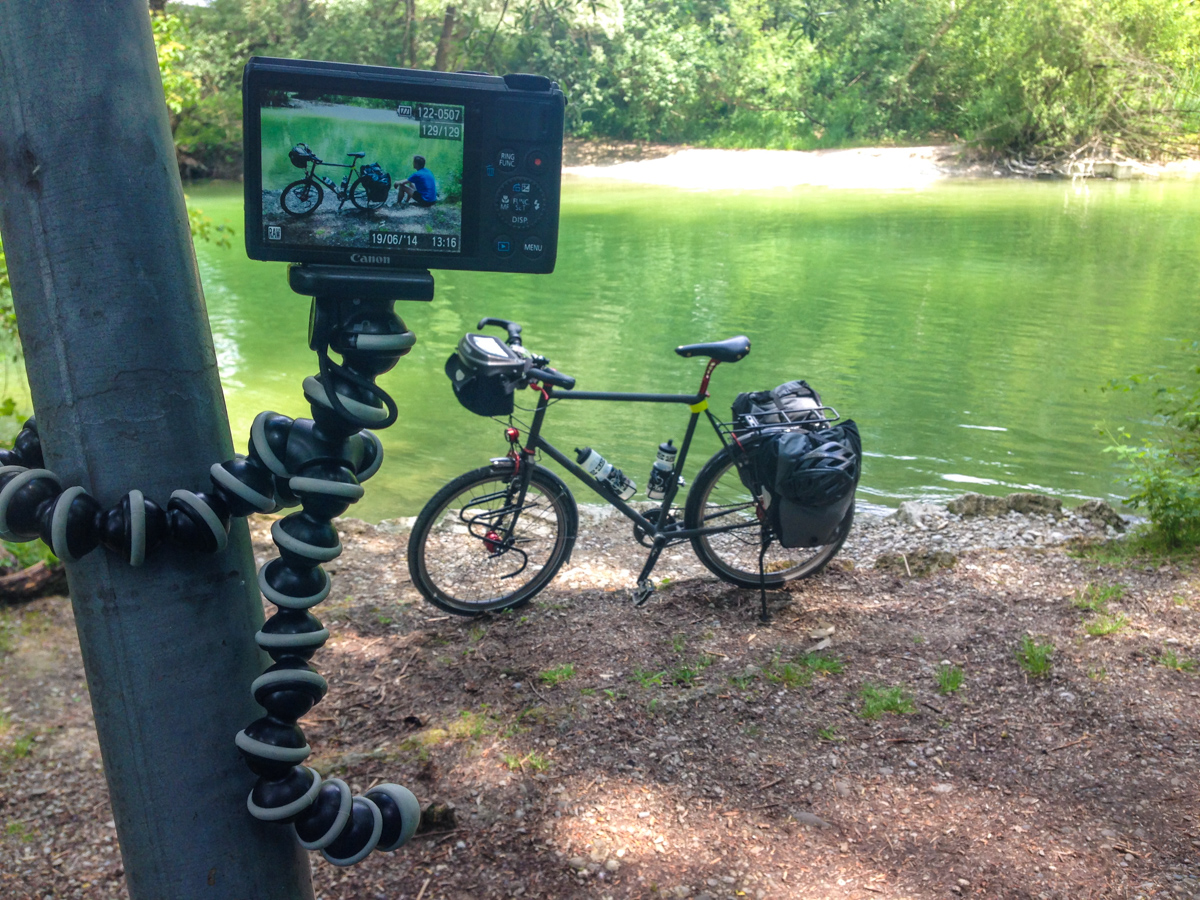 Resting place at lake Ammersee – the making of.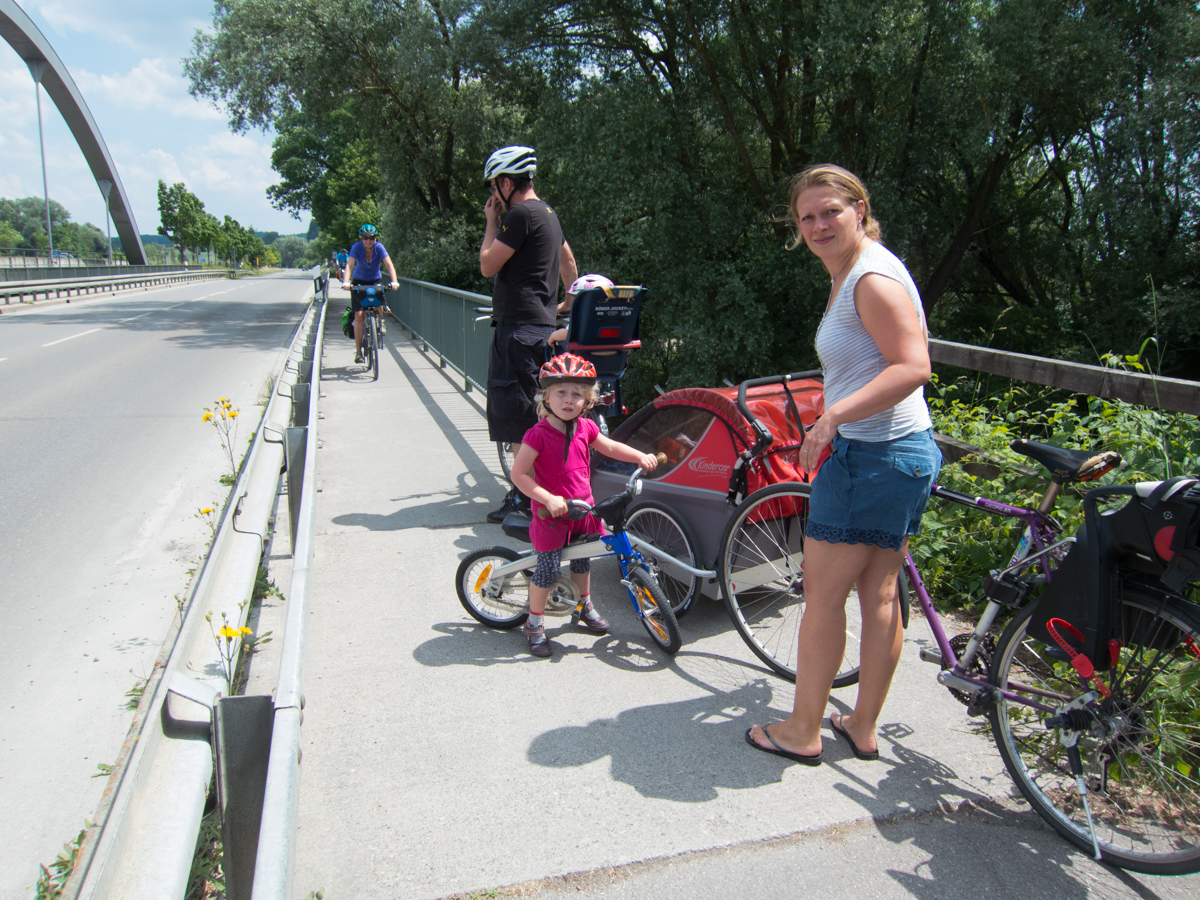 This is the bridge crossing the Amper. That family had to wait several minutes until they could cross on the much too narrow bike path.
The planning was not so well done, Bavaria!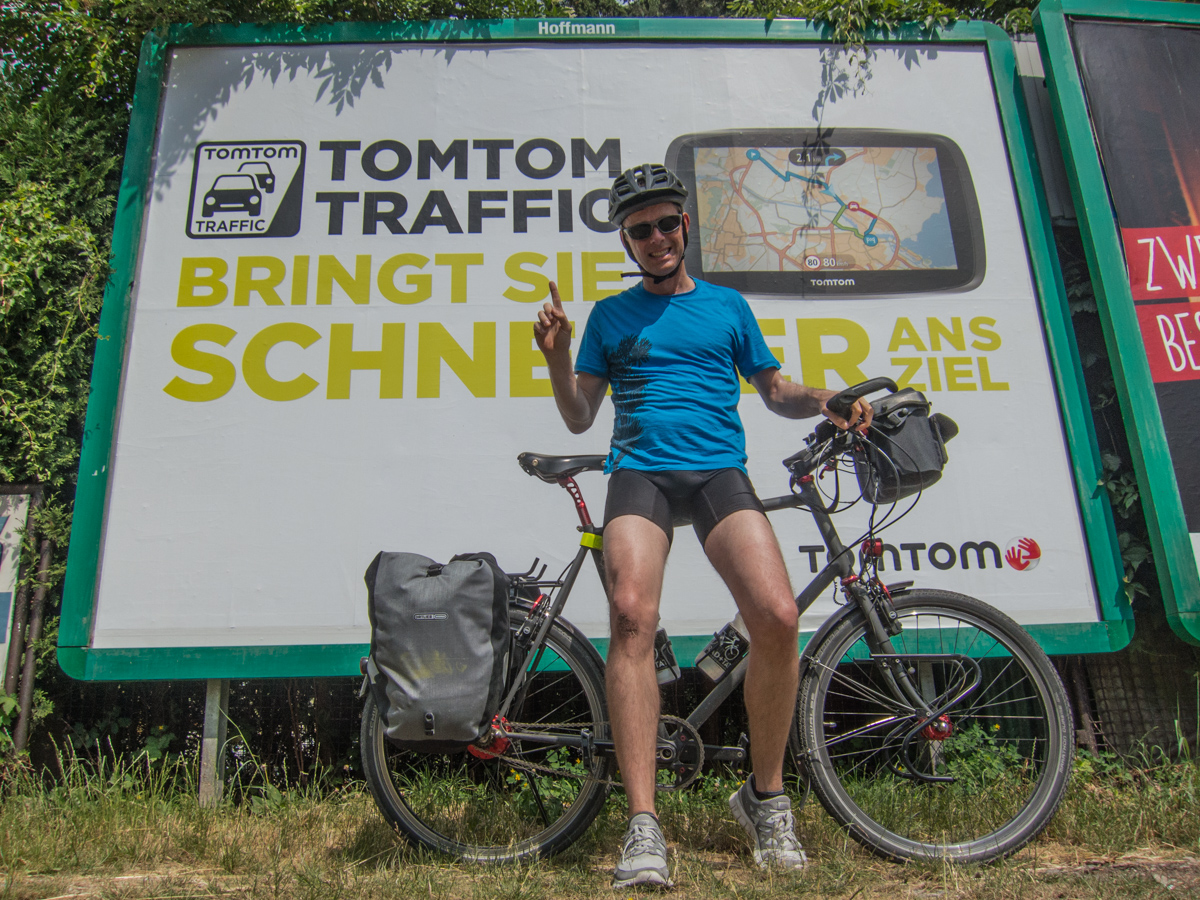 Hahaha,  Tomtom can buy large ads. And we can do bike routing.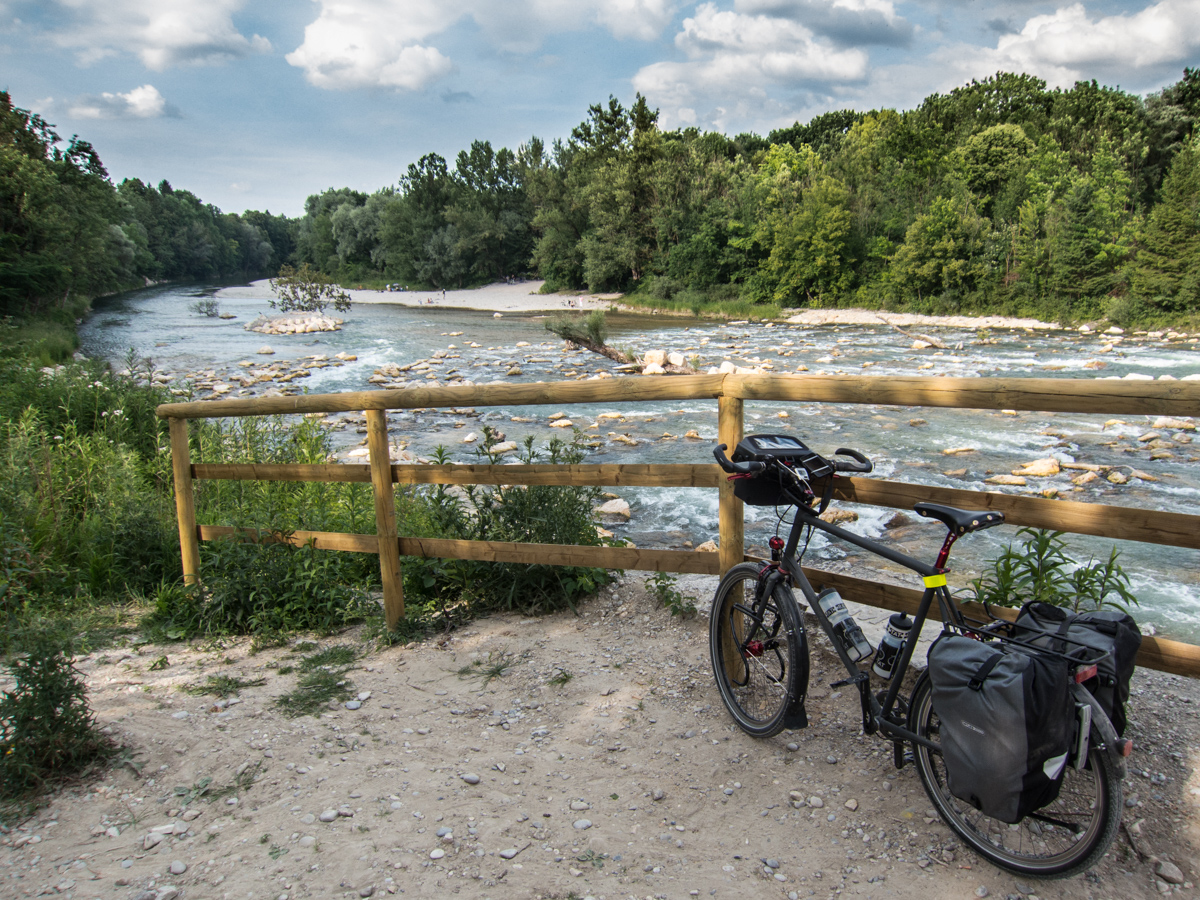 From Munich on I cycled along the Isar river. Admitted, I was not wenn informed. And thus I was surprised that the the cycle path was a bumpy gravel road along the whole length.
Since I was on the very first tour with my brand new leather saddle (by Gilles Berthoud), the fight between the saddle and my botty was… won by the saddle.
Cyclists are an important target group – even alongside the not so popular Isar bike path.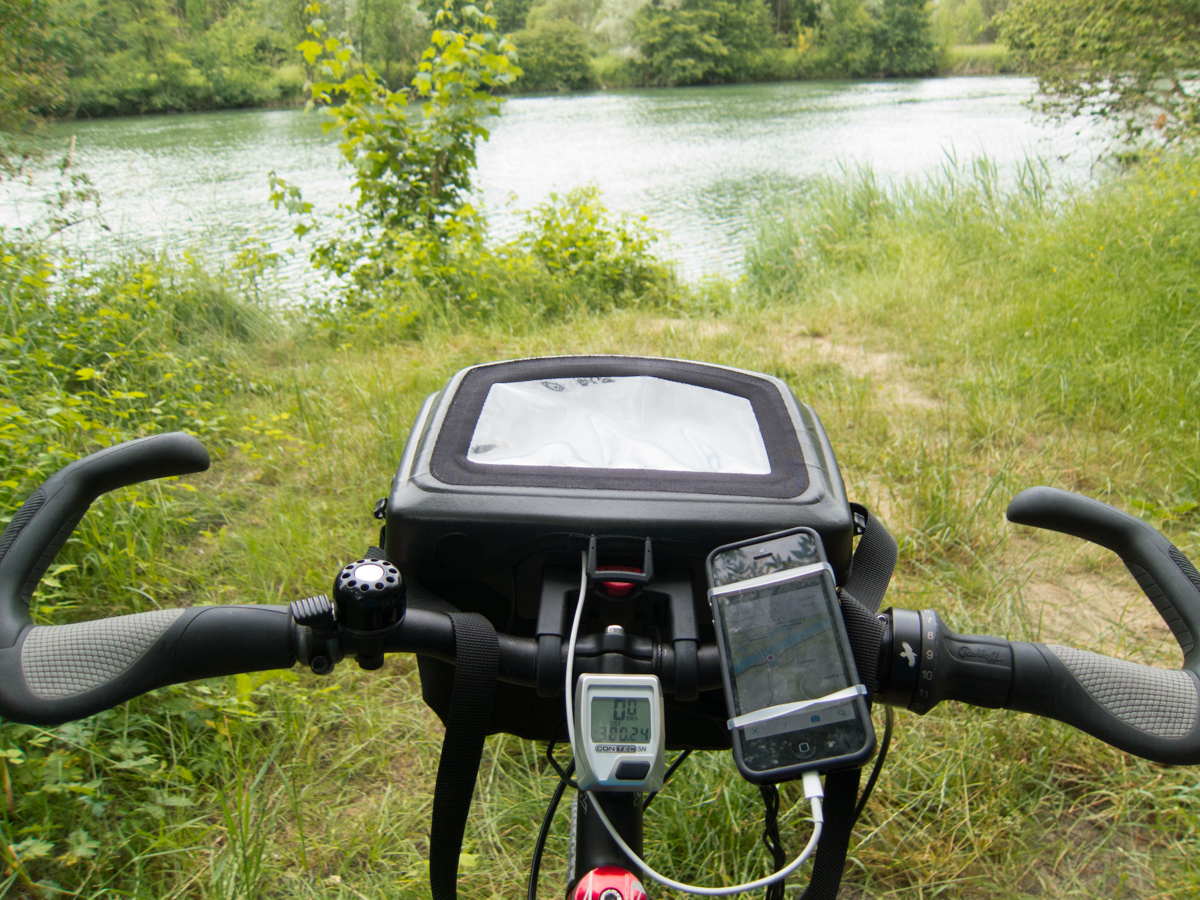 Again and again the signposts mislead me to the wrong side of the river. This time I was even told to get wet wheels. If only the Bavarian tourism people would update their data at the Openstreetmap correctly…
One problem pops up at every river cycle path I know: at every singe bridge the cyclist has to decide on which side of the river they want to continue cycling. Even a signpost saying that both sides are possible is not much of a help – since it does not help with decision making.
This is a photo of my cockpit. My iPhone is always running with multiple apps I am testing (this is part of my job). And every single of such apps needs more power that the battery of my iPhone can keep.
That's why I am having a hub dynamo on my bike (SON-28). And to the dynamo connected I am carrying the E-Werk (by Busch & Müller) in my handlybar bag. This nice little device can transform to several Amerages and Voltages.
But with every stop of my bike the current is stopping, too. That is something the iPhone (different to all Android phones) does not like. So it simply stops the whole charging process. And it will still be stopped even if I start cycling again. The only solution is to unplug und plug again the cable. Which sucks.
That's why I also bought the buffer battery by Busch & Müller. Now it is this battery being charged by the dynamo, and it is very tolerant to interruptions. And meanwhile the buffer battery itself is (constantly) charging the iPhone.
Unfortunately my buffer battery was broken and didn't work. Am am sending it back to the manufacturer.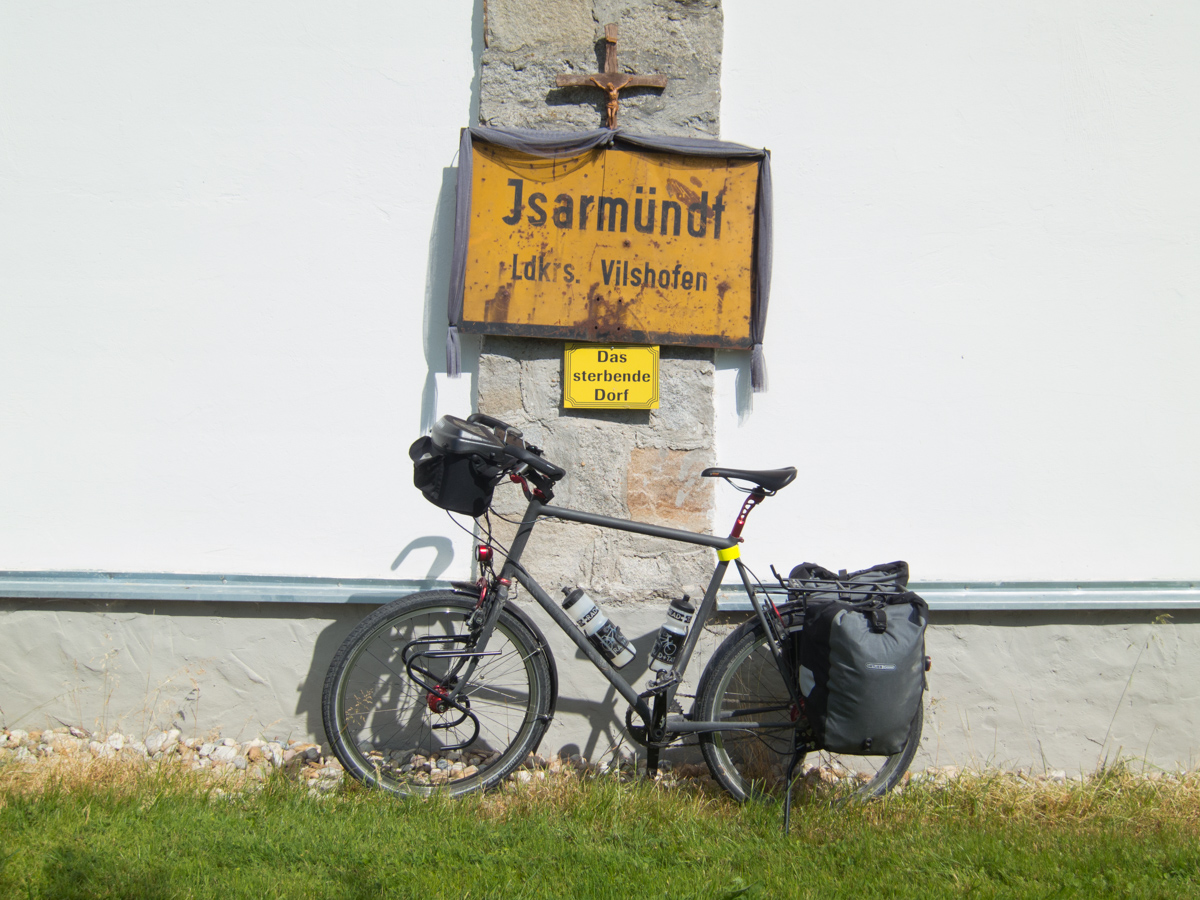 Right at the estuary of the Isar into the Danube there seems to be a village dying – if you beliefe this sign claiming that.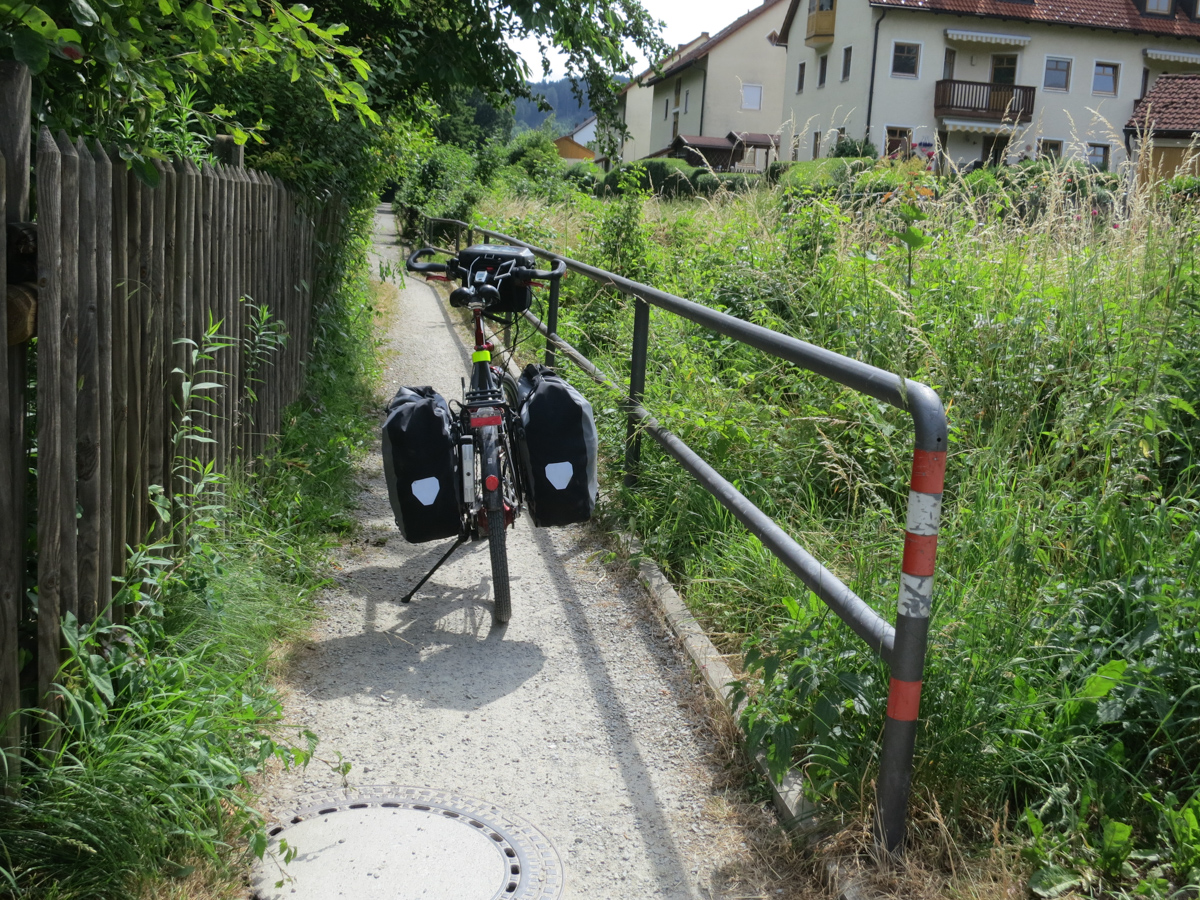 This is the beginning of the legendary cycle path from Passau to Vienna. Right after Lake Constance bike path this is the world's second most popular cycle path.
But right on the first kilometer it is way too narrow.
And now I will tell you a secret that you haven't heard before: There is not Danube cycle path!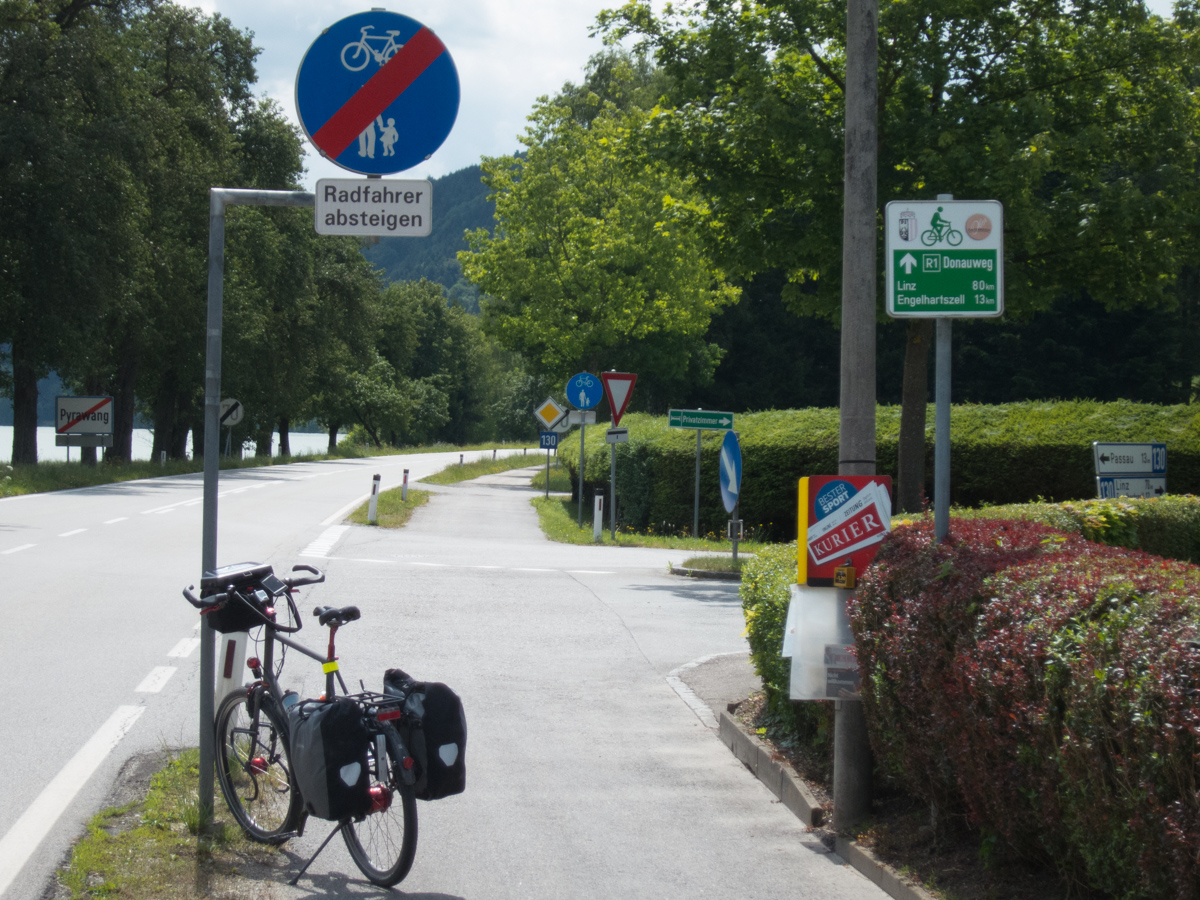 Why not?
Because at almost every single junction of a side road those signposts let you know that the cycle path is interrupted. As seen on this photo.
This is made to take away the rights of the cyclists – which motorists still have.
Sounds harmless, but it is important. Firstly by law, since every cyclist who does not dismount (as they all don't do) looses their insurance.
And secondly this nonsense leads to a totally fragmented cycle path in the Openstreetmap.
Which now is almost impossible to navigate..
This is something tourism managers and street planners obviously don't think about. Most of them still totally underestimate the Openstreetmap and thing a physical singpost is all they have to take care of.
So just for the case that YOU are tourism manager, let me repeat it once more: having your cycle path done correctly in the Openstreetmap is way more important than those signposts.
And if not now, than soon.
Is it the road crossing the cycle path, or the cycle path crossing the road?
Of course cyclists are handled as traffic of lower importance, so each time the cycle path crosses "the" road the cycle path as a leal entity is simply interrupted.
And don't forget: this is the second most frequented cycle path on earth with some hundred thousand cycling tourists every year.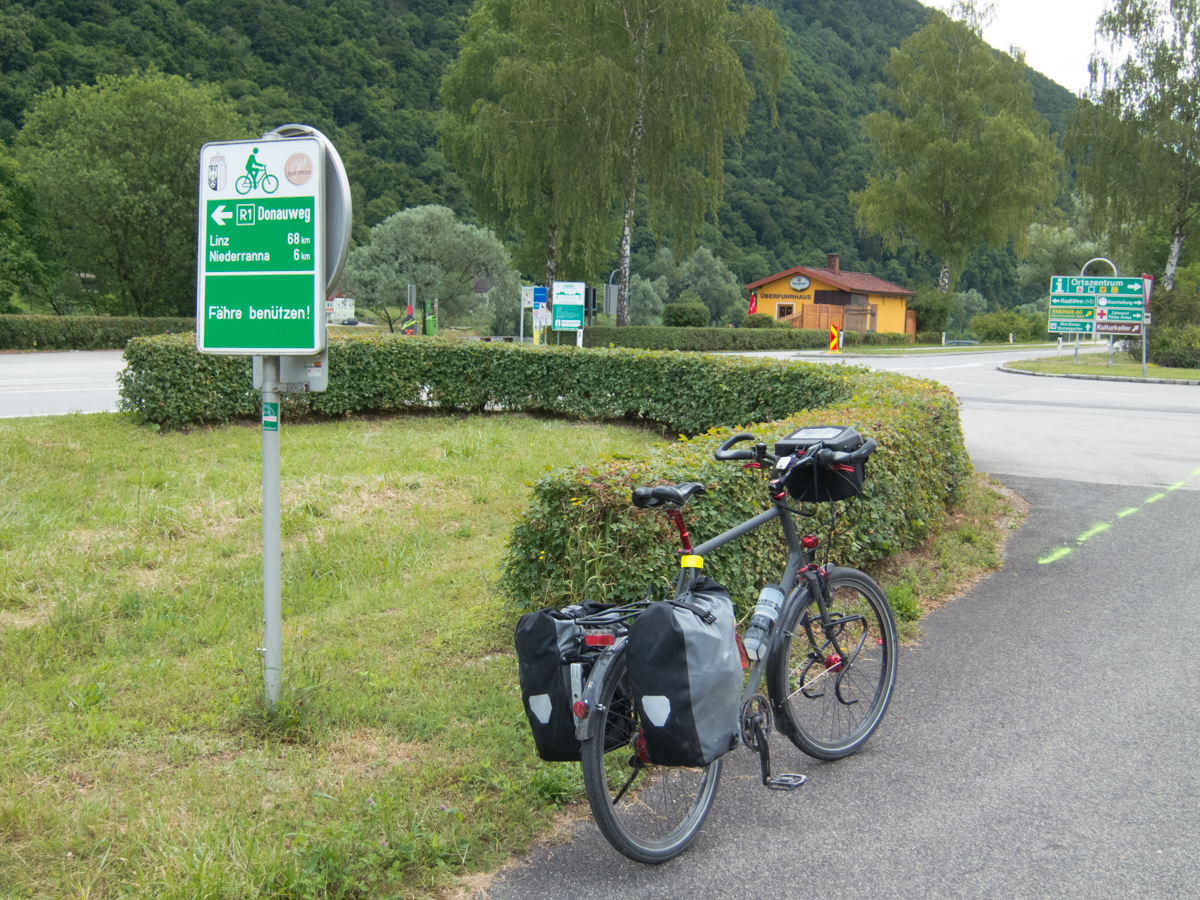 But despite all weaknesses there are good arguments for this bike path. Every time it crosses the river (and not the road) this will be a highlight of the tour. Even well done in terms of signposts.
There are many crossings in between the bridges. This is when they have tiny ferries offering their services to the cyclists. Usually for a tiny fee of 1 or 2 Euro.
The ferries for cyclists – truely nice and a highlight if this bike path.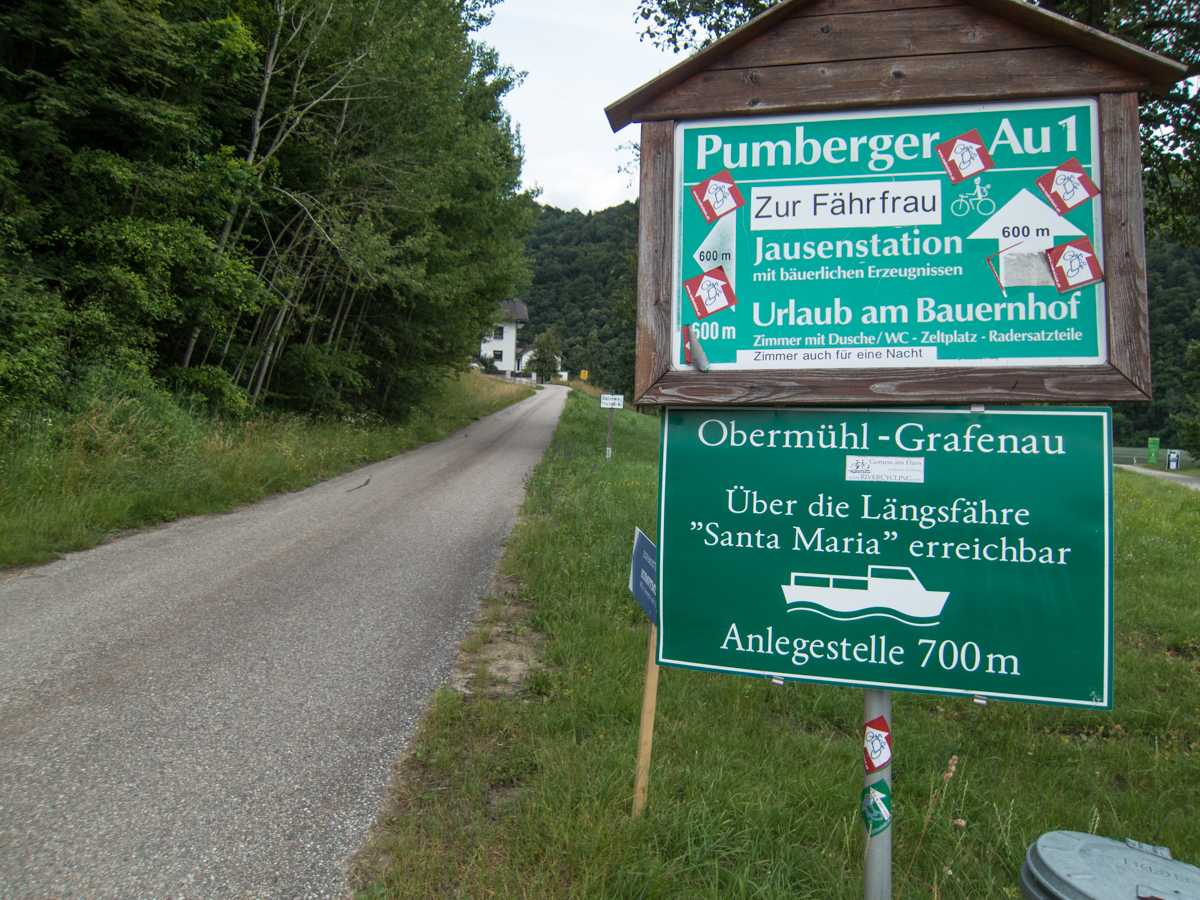 At one place there are even three ferry busy (or not so) taking cyclists over to the other side.
As with the missing help in decision making on which side of the river one should cycle – this signposts is also reduced to pure information and of no help in decision making.
The part of WHY is totally missing.
Except if you booked a tour with Rad & Reisen. Since they boldly put lots of their stickers to the official signpost to indicate their suggestion (for which they surely get paid).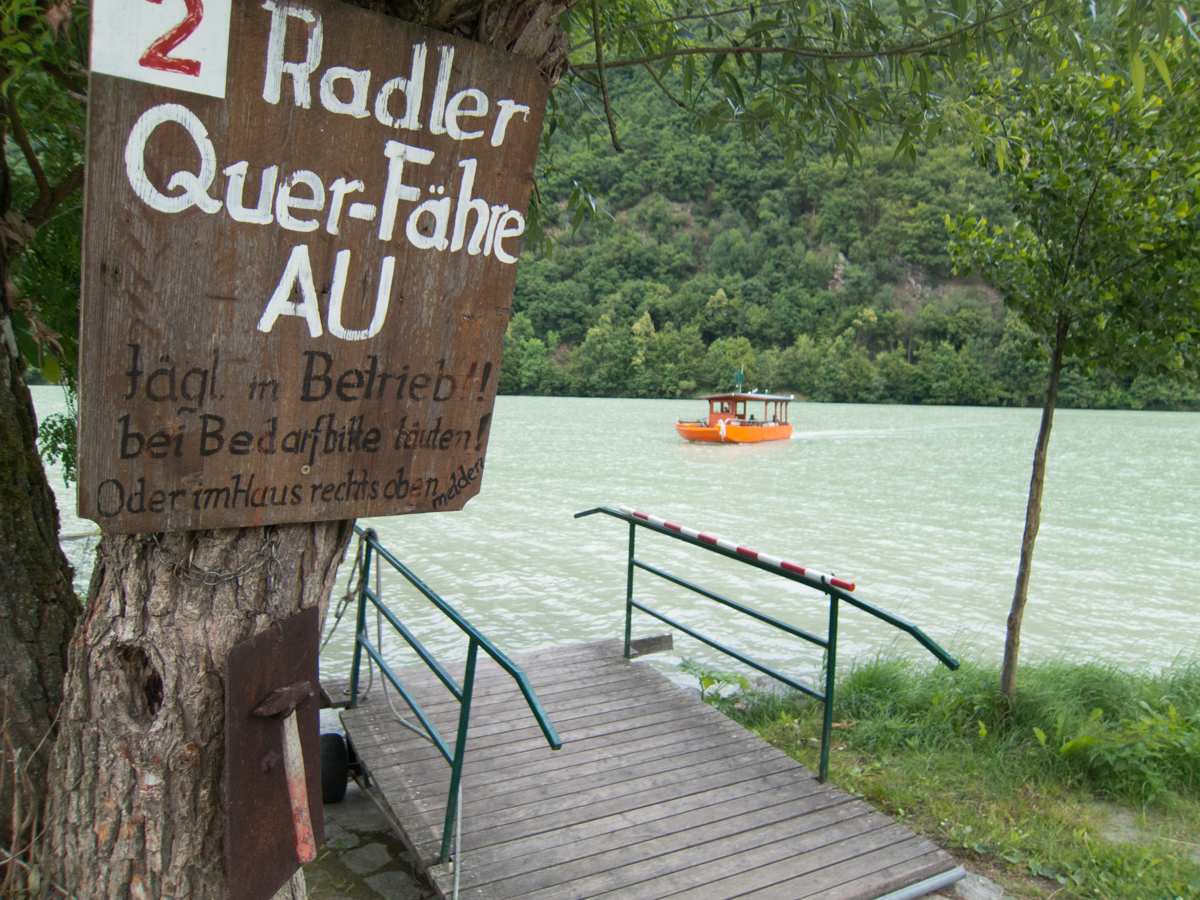 If it happens that the ferry is on the other side, you can either yell or ring a bell. Or in this case take the hammer and beat as hard as you can.
This is the beginning of silly ("Albern").
And the end of silly.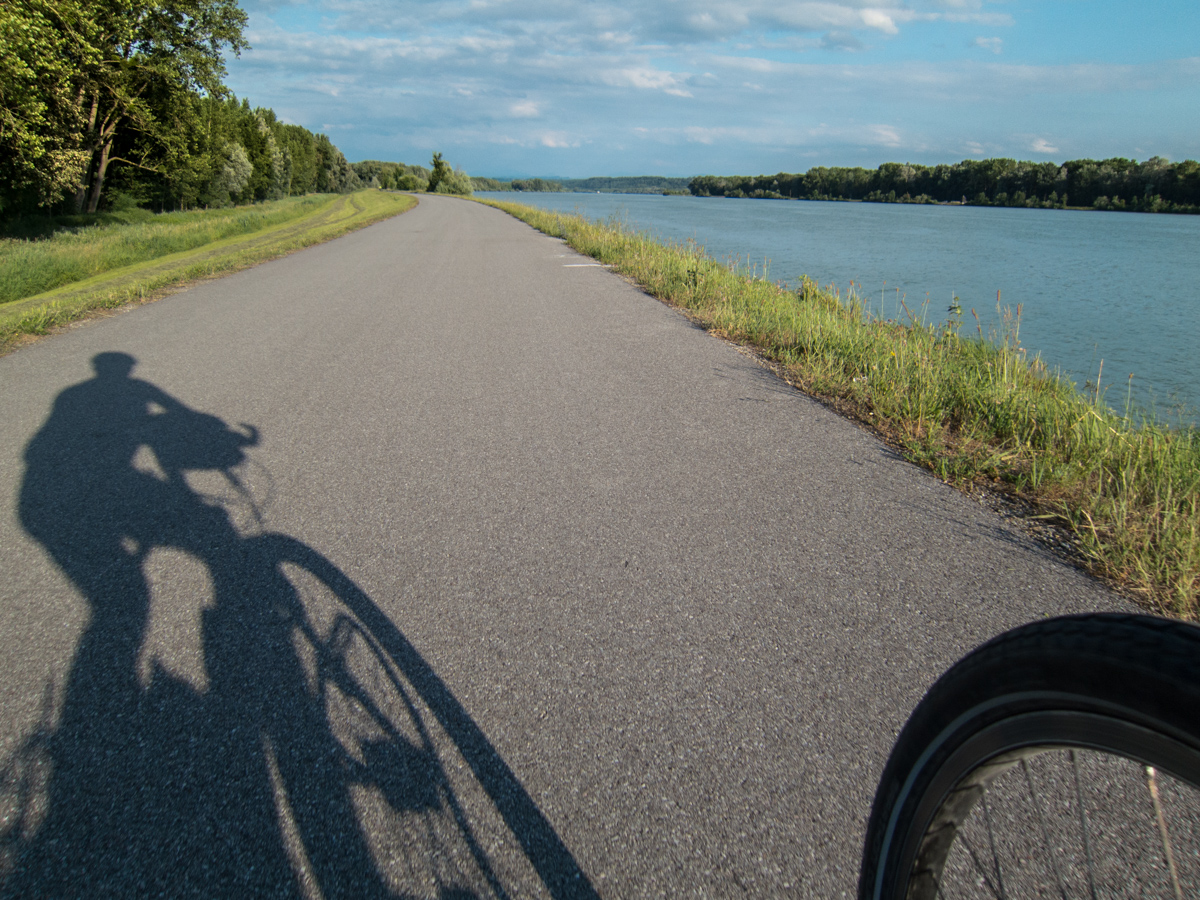 Downstream of Linz the cycle path is simply perfect for speeding with tailwind.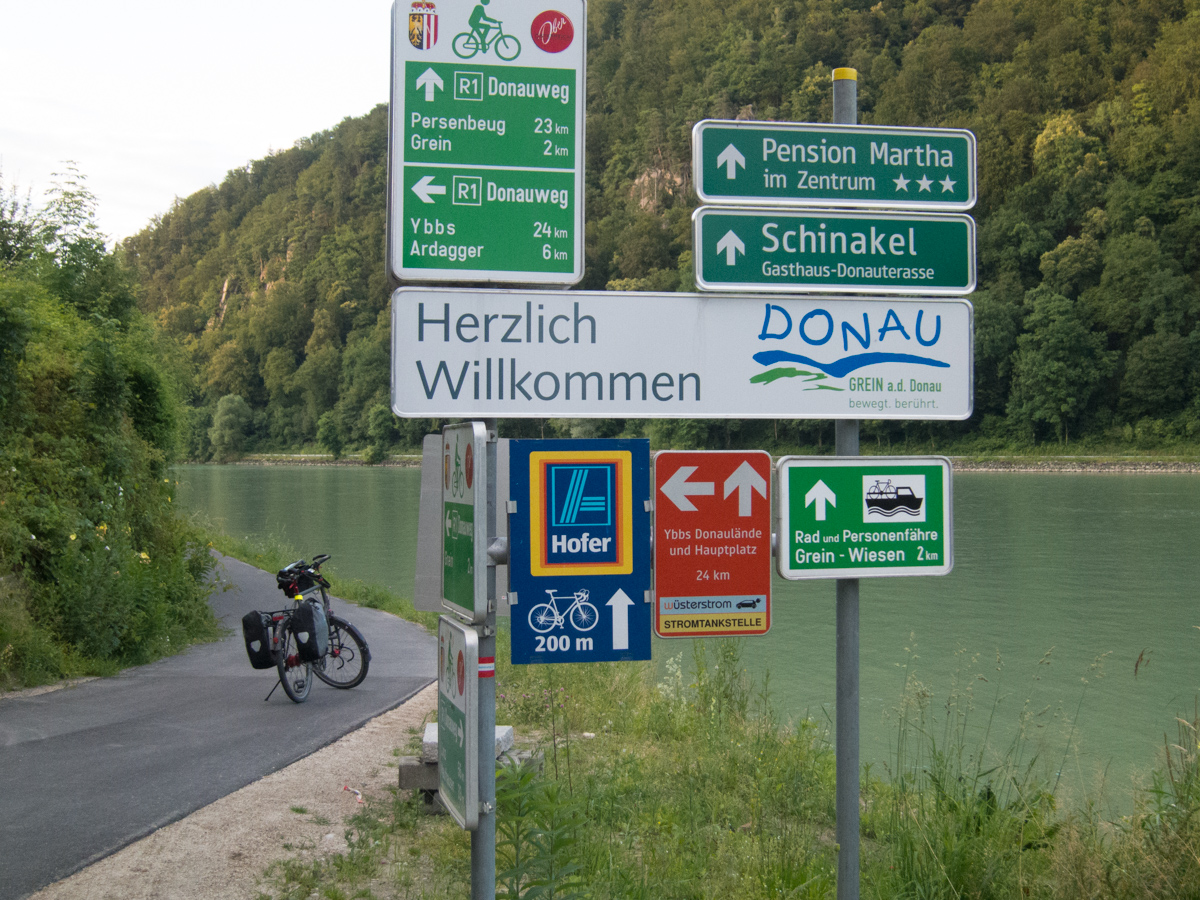 Most places forget to set up a signpost telling the cyclist where they are.
But Grein does it well (if you look closely).
And once more you can read the financial importance of all the cyclists as a target group by the number of signs advertising businesses along the bike path.
At some places there are huge signposts explaining to the cyclists that they can cycle on both sides of the river.
But again they lack the help of decision making. The part of WHY is missing once more.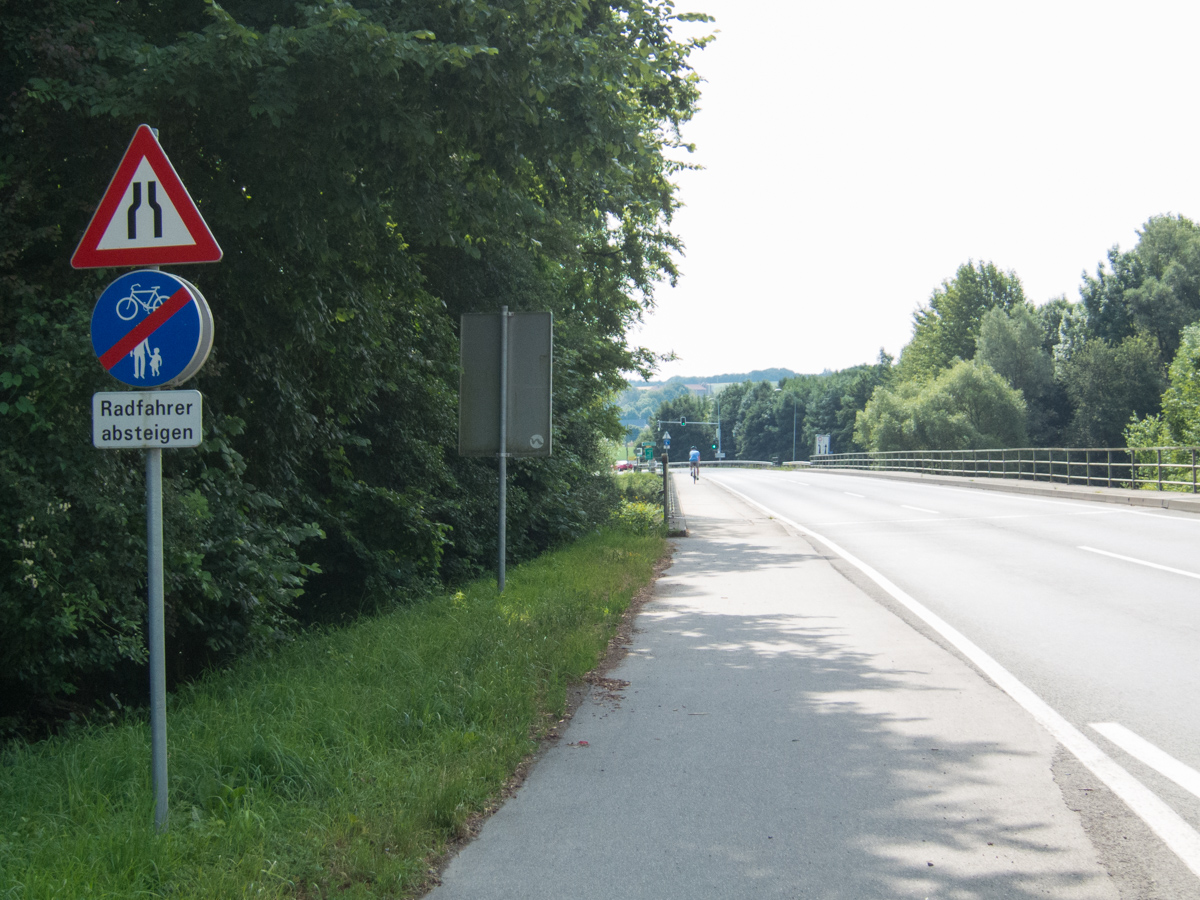 Here the street planners did an awful job. Since the bike path on the bridge seems too narrow they simply interrupted the cycle path with the help of a sign. They tell you to dismount and walk your bike.
Which, out of 1000 cyclists, exactly… not a single one is doing.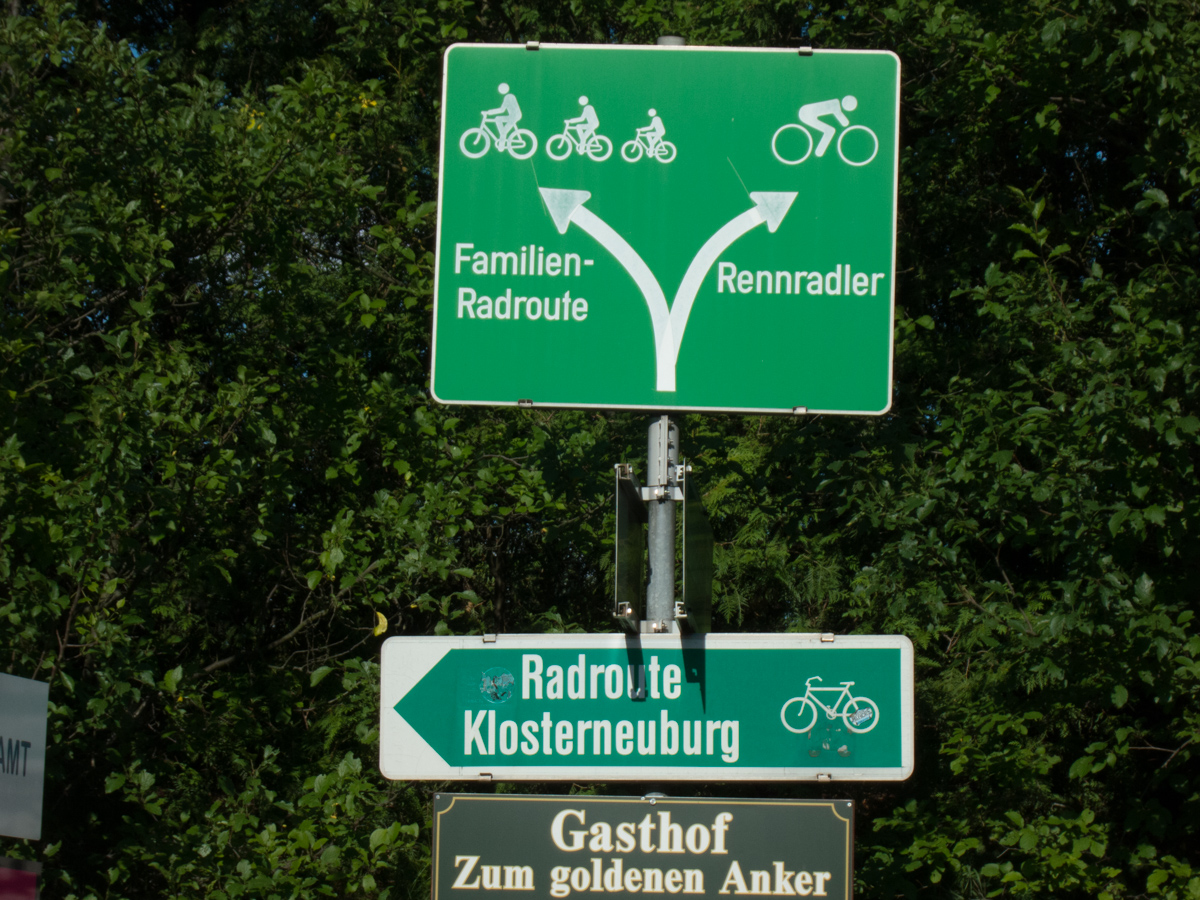 But as a form of an happy end I will close this blogpost with a photo of a perfect signaling. This signpost is totally need-oriented and helps with the decision making whether you want to cycle on the left or right side of the river (even without understanding German).